2012 has been an extraordinary year.
The Queen's Diamond Jubilee in June gave Brits an opportunity to celebrate her 60th anniversary – and Grace Jones's exceptional hula hoop skills – in a extension of the fervour created by last year's royal wedding. This pride continued throughout Britain's successful Olympics and Paralympics. We brought in a total of 63 golds, 61 silvers and 62 bronzes, stunned the world (and ourselves) with the vision of Danny Boyle's opening ceremony and Thomas Heatherwick's extraordinary flame.
But I often think, as I enjoy the benefit of hindsight, that it's great we can't see into the future.
If someone had lifted a curtain on 2012 back in 2006, when Spring launched, and shown that we'd all – clients, peers and friends – be enmeshed in the third year of a biting recession, I suppose many of us might have postponed our plans. Whatever the size of business, whatever your position, however old your children, however big or small your home, whatever the capacity of your car's fuel tank – it's undeniable that we have all had it tough for the past three years.
Despite that, I have seen some businesses soar, geared up to thrive in any economic climate or flexible enough to reap the rewards of the difficult years. I've also seen some really good businesses collapse, usually because of cashflow crises caused by sluggish bill payers or their own clients' businesses folding.
There's no doubt at all that we've all had to sing a lot harder for our suppers.
Spring's response to the recession, as the first waves of it hit back in 2009, was to dial up our delivery on strategy and campaign management. We restated our process to establish total equality between planning, creativity and application, and focused our work on extraordinary ideas that demonstrably deliver profit for our clients' businesses. This is not about making any of the Springers' lives easier, but does mean that we've minimised risk for all our clients in running with bold campaigns, and thus helped their businesses to grow – and in the process, our own.
As we near the end of 2012, our sixth full year of trading, I am pleased as Punch to report that we have seen 35% growth in the last year alone – testament to the willingness of our clients to run with our ideas, and the energy and skill of all the Springers, not to mention the advocacy of our supporters who have helped to spread our reputation across the east of England as we grow.
So, as is traditional at this time of year, I'd like to invite you to settle down with a cuppa and a festive pie to enjoy our summary of some of the highlights of Spring's 2012.
January
On 1st January 2012, we turned off the home page of our website, replacing it with a countdown to the launch of our new one. The page invited people to sign up for updates, and so we were able to keep Spring watchers updated with progress as we completely redeveloped the site – new functionality, text and image content, and build from scratch. Two weeks later the site launched, to sighs of relief from Spring's business development team and praise from our fans.
Our work with artisan bakers – which was set to grow to extraordinary proportions as the year went on – started with the development of a website for The Penny Bun Bakehouse, run by Johnny Spillings whose past career includes working for Heston Blumenthal at the Fat Duck, and Raymond Blanc at Manoir. Johnny's business has been one of the successes of 2012, which has warmed our hearts – and it was he that introduced us to Marriage's Millers, of whom more later.
Late in January, a couple of Springers set out into the world of education, training A level students in the art of film making. From storyboarding, to filming, to editing, Bex and Glen relished the opportunity to share some of their knowledge and experience with the next generation of creative talent.
A business highlight for January, which we kept under our collective hats until November, was the successful completion of a long and intensive tender process for the Sizewell C Community Consultation, for which EDF Energy appointed us at the start of the year. Throughout 2012, a dedicated team of Springers worked hard on data management, project planning, research, contribution to strategy and a wide variety of other activities in preparation for the first tranche of public exhibitions.
February
The shortest month, but still busy for the Springers.
An exciting new project saw us preparing for the launch of Adnams's American Pale Ale, Ghost Ship. Our brief was to launch Ghost Ship as one of the brewer's regular beers, following its phenomenal success as an occasional treat. 'The Ghost Ship Returns' became our focus, and our interpretation of that position was to see us create our own 'brewery of wonder' transforming The Sole Bay Brewery into a shifting, clanking backdrop for a haunting film that left everyone who saw it gasping.
But before that came the job of engaging bloggers and journalists, planning a big party as well as landlord breakfasts (complete with a formal launch speech and tasting sessions) and setting up social media channels and in-pub promos.
February also saw the first 2012 concert in the third season of the Southwold Concert Series: a Valentine treat from the beautiful and much praised Sacconi Quartet. Vaunted by The Spectator as offering 'intimate closeness', this group shared works by Haydn, Bartok and Elgar with an enthralled audience, accompanied by the artistic director, composer and classical pianist Nathan Williamson.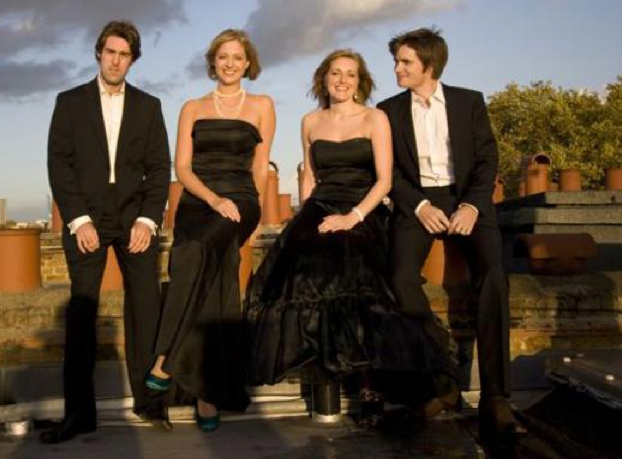 We also launched a website and print campaign for our favourite fitness instructor, Gary Matthews, who beasts Springers once a week at our Friday Gym sessions. We enjoyed the chance to kick his marketing into shape, rather less painfully for him than his training is for us!
February was the first month for the regional Digital Industries group – a select gathering of industry leaders from Norfolk and Suffolk who are working together on strategies to improve the prospects, skills and reputation of our industry. It's vitally important to be prepared for the future, to have input to conversations on infrastructure and opportunity, to accept the challenge of setting high posts for quality and delivery, and to speak with one voice to project the region's profile onto a larger stage. Erika took a seat on this group, as a representative both of Spring and the New Anglia Local Enterprise Partnership.
March
In early March, Good to Go Anywhere launched. This is a handy travel pack of cleansing, moisturising and disinfectant sachets which Spring has branded. Two versions – Good to Go Anywhere and Good to Go Anywhere with Kids – allowed the brand to target two key audiences. Good to Go rolled out across packaging (foil strips and multi-pack boxes), on shelf units, POS, social and eCommerce. The patented brand has subsequently won awards for innovation and pack design – a real plaudit to the innovative founders as well as to the Spring design team.
On 7th March, Bollinger revealed its new sponsorship of the Oxford – Cambridge Boat Race. It was to turn out to be an eventful year for the hugely popular Thames rowing battle too, but in preparation Spring redesigned the Bollinger website and started to engage fans to keep them up to date with news and preparation for the big day.
March saw the annual reopening of Southwold institution The Pit Stop. Tucked away behind the Water Tower on Southwold Common, the Pit Stop has tennis courts, toys, indoor and outdoor seating and does a mean cooked breakfast – but as it prepared to open for the year, it turned out, no power. The generator had packed up, and as The Pit Stop is run on a shoestring there was no clear means to replace it. So we put our hands into the charity fund and bought a new one for Anne just in time for its spring opening – the first sign of a Southwold summer being in the offing.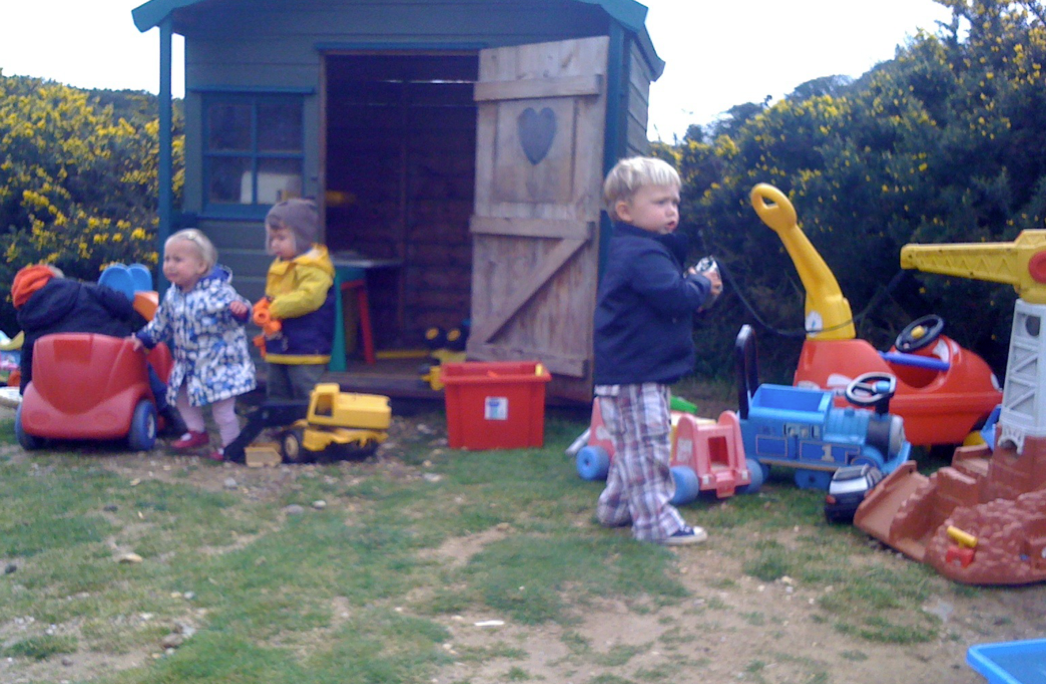 We worked with Anderson Developments to launch two quality-spec five bedroom, five bathroom houses on the edge of Epping Forest in Loughton, which were snapped up quickly for around £1.5million each – proof positive that if you build what people want, in the right place, there's still a buoyant market. During the rest of 2012 we worked on other projects of smaller houses and commercial buildings for Anderson, all well positioned near major transport links but in desirable locations.
April
Paper darts, the Springers in our swimmers, jumping and throwing scrunched up paper – in preparation for the real Olympics, Spring took part in the Office Olympics. The Springers entered into the spirit of the thing wholeheartedly – even employing a professional choreographer to train us for the 'Synchronised Swimming' routine – and romped in in second place. Of all the awards the agency has won, this is one of which we are really quite proud…
One of the greatest excitements of our April was the relaunch of Woodbridge Tide Mill. Having been awarded just under £1million from the Heritage Lottery Fund, the Tide Mill trustees appointed Spring to their renovation team in mid 2011, and this month was the culmination of an enormously complex project which, on Spring's side, involved a range of skills including space planning, 3D design, audio recording (including the divine Diana Quick as a very delicious mill cat), model, web build, display, interactive zones, signage and even chocolate mice.
It's been a phenomenal success (the guest comments books brings a tear to the Springers' eyes) and really was a once-in-a-lifetime project to have input to an important part of the east of England's industrial heritage and tourism offering.
We also concentrated on the Suffolk Coast and Heaths brand guidelines, a comprehensive brand book for the use of the AONB team as well as their project partners, in which we redefined the tone of voice, colour palette and image use for this beautiful stretch of our coastline and countryside.
The end of April saw Spring's publication of Adnams's Winebook, a three part print project of wine catalogues for consumers, on-trade and retailers. It was a radical reinvention of the format: new page size, new paper stock, new finish, new editorial style, new imagery and new design. Our brief was to communicate their wonderful wine offering in a way that would allow them to grow its loyal audience.
One change, whilst tiny, was to us the greatest representation of this relaunch. What had been the Adnams Wine Merchants Catalogue became known, simply, as 'Winebook'. This symbolised the publication's purpose as a useable, scribble-on-it handbook for wine lovers. Adnams, being one of the first wine merchants to provide really detailed notes in their catalogue, has long been at the forefront of an information-based approach to wine selling, and so we ensured that links out to digital content abounded, both in text and through QR codes.
May
Early in May we won the Marriage's Millers account following a four way selection process. Another East Anglian family-owned heritage foodie brand, Marriage's felt that Spring's strategic thinking combined with our creative approach would set them in good to stead to develop their audiences and launch some new flours into artisan bakers.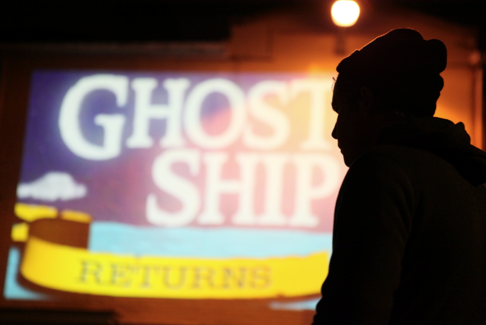 The start of May also saw the launch of Adnams Ghost Ship – a very well attended VIP party was rudely interrupted by a terrified phantom smuggler who begged everyone to rush to the brewery, which had been haunted by lost souls, ships and the sound of eerie bells. This haunting, and some guerrilla events in other towns and cities – all created by 3D projection – launched a hugely successful digital campaign on twitter, youtube and facebook, which ran alongside an in-pub competition promo. These activities, preceded by a landlords' launch and information programme, saw Ghost Ship burst onto an eager market, who bought over half a million pints of the stuff and overwhelmed twitter.
A small CSR project for the month was the donation of a logo for Southwold's Diamond Jubilee celebrations, which the Town Council used for the event publicity and mugs for the community's children. A handful of Springers also cycled 100 miles across Suffolk in aid of Action Medical Research, others ran 10k for Cancer Research – we knew those gym sessions would pay off! And the Southwold Concert Series ended its third season with a concert by Guildhall cellist Michael Petrov, accompanied by Rosie Richardson, for a varied repertoire of Beethoven, Brahms, Debussy and virtuoso works by Chopin and Bartok.
The Everyman Bollinger Wodehouse prize was awarded to Terry Pratchett at The Hay Literary Festival. He's a popular choice of author who is felt to continue the spirit of Wodehouse in his comic fantasy novels, and whose willingness to talk about his own Alzheimer's has done much to bring this terrible and widespread affliction to greater public attention. Our work on the Bollinger blog saw us reviewing each of the books that made it into the finals, celebrating Pratchett's victory and running competitions with a full set of the finalists' novels as prizes.
For those of us who love our fashion, May was an exciting month – we launched a beautiful eCommerce site for fashion retailer Spear & Hubble, whose identity we had designed in 2011. Featured brands include Vivienne Westwood, ba&sh and Day Birger et Mikkelsen, and this well edited selection is reflected in the sharp graphics, extensive photography and helpful information throughout the site. Features like 'Miss Hubble', a virtual stylist, and regular topical blogs keep Spear & Hubble punchy and up to date.
June
Simon stood on the very top of the Saint Edmund's Church tower to photograph the town from on high, for a book recording the church's history that we designed, illustrated and print managed. This beautiful coffee table book has received much acclaim locally and nationwide – one of the unique privileges of being based in this lovely town.
And so we were also proud to be responsible for launching the 'My Southwold' loyalty card scheme, allowing the town's independent retailers to offer flexible incentives to their customers. Southwold's High Street is a draw for tourists as well as a great resource for locals, though it is under siege from some national chain stores and catering brands who want to get in on the action. Initiatives like 'My Southwold' are devised to make it easy for people to support independent businesses.
Erika was invited to become a spokesman for the UK design industry by the UKTI, which coincided with the start of her involvement with Suffolk's ambitious 'Raising the Bar' education improvement programme, headed by the RSA – and is delighted to have input at both ends of the spectrum, helping to create a generation of fit-for-work youngsters whilst also improving the international understanding of Britain's businesses.
July
The Olympic flame came to town, and we filmed its visit to local independent school Saint Felix. The flame made its lunch stop at the school, prompting a choral concert, flag dance and other events to celebrate this unique occasion. Simon also captured the Olympic stadium on film from helicopter, just before the no-fly-zone was imposed, getting a foretaste of the scenery for Danny Boyle's Isles of Wonder opening ceremony.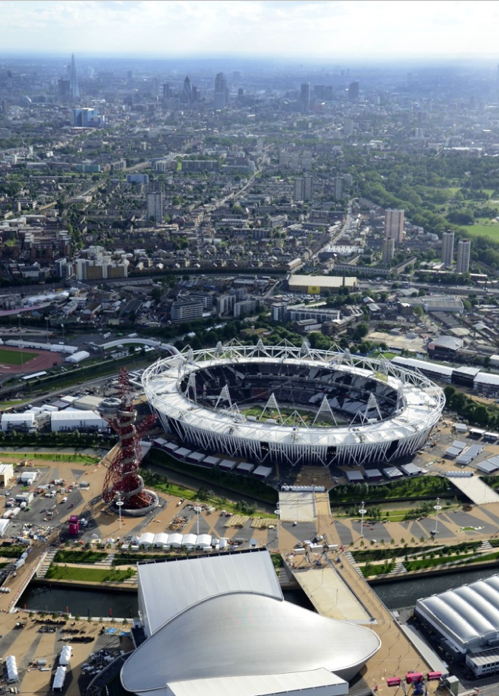 Spring's first work for Marriage's went live, with a revamp of their website giving people a glimpse of our 'Test of Time' brand theme. A smart black and white font style communicates Marriage's heritage as well as being appealing to a design-savvy audience of artisan bakers and home baking enthusiasts.
Erika popped up to Birmingham in mid-July, for one of Lord Heseltine's consultation sessions in preparation for his report, 'No Stone Unturned in Pursuit of Growth'. His findings were published in October and recommended that more power (and money) be given to the regions, which would see organisations like New Anglia LEP gain serious powers to invest in and improve their areas.
In July, we were able to go public about another exciting win: leading national sign company Signs Express had commissioned us to undertake a wholescale redesign of its marketing and communications. This extensive project will be rolled out over the next two years beginning with a soft launch among its 75-plus franchisees located across the UK and Ireland. Spring is working on corporate marketing communications across the business including advertising, a wide range of print, POS, internal and external signage, vehicle livery and online applications.
And at the end of the month, the Bollinger site succumbed to a fortnight of nothing but Bond – over which period we brought to a delighted audience the many faces of the man himself, his leading ladies, villains and, of course, the numerous cameo roles of Bollinger: The Official Champagne of James Bond.
How appropriate, then, that news reached us of two of our clients featuring in Fifty Shades of Grey, with both Adnams and Bollinger receiving name checks in the mega-hit bonkbuster.
August
Summertime, and we launched another Heritage Lottery Funded visitor attraction, this time The Old Chapel in Upminster, Essex. Spring's input to this project was a brand, displays and website, which we were awarded without pitch on the basis of our work with The Tide Mill.
We also saw the fulfilment of our work with Leap, the admirable access to learning programme run by UCS, The Learning and Skills Council and Suffolk County Council. This was the realisation of a vision we had first expressed back in 2009 – to recruit a group of 'Leap Ambassadors', being people who had themselves benefited from Leap's support. With our Ambassadors selected – and believe me, their stories in many cases are deeply humbling – we set out to pamper them at styling and photography sessions, give them media training and set them up with radio and public appearances. This project continued throughout the summer and saw a real lift in Leap's profile across its region.
Spring was also briefed to write and edit our second newsletter for Suffolk Coast and Heaths. One of the articles was about sustainable transport, and with characteristic desire to 'be extraordinary', we proposed that, rather than simply interviewing people and undertaking desk research, we'd actually go right ahead and do it.
So one early August morning an intrepid Springer set out from the southern-most point of the AONB, making her way to the north by ferry, bike, train, bus and foot, meeting people along the way to share her journey and their knowledge of the area and its green transport. These interviews were recorded in writing and on film, for later use as a series of articles across the website and social media channels.
DanceEast and Spring have continued to work together throughout the year, with August being the most intensive period in the studio, producing a range of promotional materials for their autumn performances and classes. It's always a delight to work with this organisation, which really shows you can be world leading and East Anglian. It also allows our team to explore creativity of a different type to our own, and you'll often find a Springer in the audience.
September
Erika's position on the board of the Design Business Association started this month. The DBA acts as a bridge between business and design, with a focus on the commercial impact of effective design. Erika's concentration will largely be on influence and advocacy, getting the DBA's manifesto working across wider spheres.
We launched the superfast broadband campaign for filming venue and commercial estate, Bentwaters Parks. This former RAF station – once much talked about for its UFO incident reports, now better known as the home of Top Gear's crazier stunts and a Hollywood filming location – has enterprisingly converted its existing fibre optic network into superfast broadband cable, thus pipping the rest of Suffolk and Norfolk to the post for decent internet provision. Our in-your-face campaign ran across the eastern regional business media.
Spring also launched a new packaging design for premium quality dog food, Salters. Its first appearance was on their best-seller, Maintenance. We preserved the existing colour palette to ensure it's easily recognisable; our only colour tweak was to return the yellow to its original free-range-egg-yolk rather than the weaker yellow that had developed over the years. We introduced the idea of people and their dogs, which for the purpose of this general use product is a pack of healthy adult dogs being walked across a park or field landscape. This imagery will develop to support the purpose of each of the other three items in the range.
Test of Time, the Marriage's consumer marketing campaign, went live on the 22nd September, with three sweet and funny films showing artisan bakers skydiving, go-karting and tandem-riding as inspiration for consumers to submit films of what they do whilst they wait for their bread to rise. These films – conceived, planned, art directed, filmed and edited by Spring – had been the cause of much entertainment over the summer months, and it was a delight to share them with the bread-baking public, who responded with films of themselves breakdancing, hoovering and drinking wine.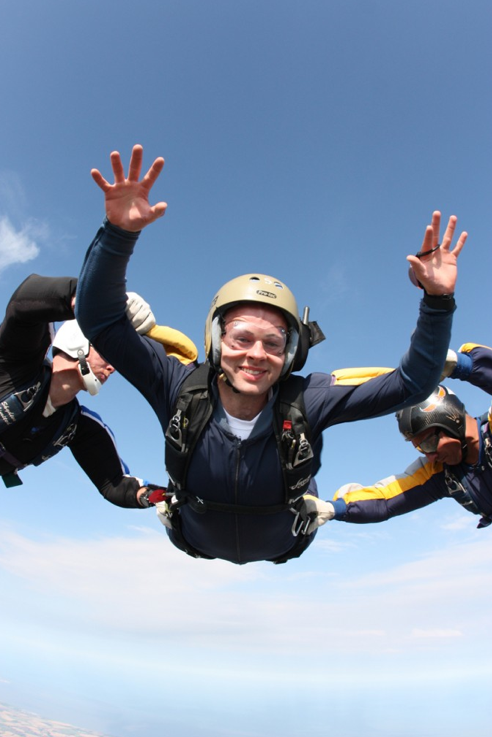 More wine for September came via the T&W Wines catalogue. It's the fourth year Spring has worked with Trevor Hughes on his catalogue, which contains wines bound for the cellars of true connoisseurs and leading restaurants. Trevor introduced biodynamic wines to his list before the rest of us had heard of them, and continues to provide one of the best edited selections in the industry.
The impact of Fifty Shades inclusion was clearly a precursor to even greater fame, as Spring client brands Bollinger and Adnams (and past Spring client, Belvoir) found themselves dubbed 'Cool Brands' in the official list for 2012. A great accolade for them, and a happy pat on the back for Spring too – we'd lay bets on us having more cool brands in our folio any other agency in the east of England!
October
We announced our intention to 'change the world, one thought at a time' by launching The Springboard Sessions, a gathering of independently-minded, invited delegates to find creative ways of thinking and so change their habits of mind – and, with them, their bit of the world. We were delighted to welcome Greg Quinton, executive creative director of The Partners, to lead our launch session. Food was provided by Johnny Spillings and drinks by Adnams, fit lubrication for the mental Olympics that followed. This first event was declared a huge success, with delegates requesting invitations for the next one, which is due to take place in early spring 2013.
This month also saw the soft launch of the Signs Express brand revamp, refreshing the thirty-year old company's long-standing corporate identity, creating a bold new colour palette that brings it into the 21st century and marking it out again as a market innovator.
We were awarded the honour of being 'The East of England's Most Innovative Employer', alongside Cambridge-based cosmetics company, Benefit. The judges plumped for Spring because of our initiatives like Spring Heroes, Mind Expanding Weekends and Friday Gym, and our policy of making Springers shareholders in the company on their first anniversary. They also remarked on the friendly, supportive atmosphere amongst the team and our inspiring environment. It was a real accolade to win this award and we're delighted.
October 5th was international James Bond day, the official 50th birthday of Britain's most debonair spy. To commemorate this exciting event, Bollinger commissioned Spring to design an image for exclusive use by Bollinger's facebook fans – an eye-catching and stylish facebook timeline cover. The elegant design references their 'Life can be Perfect' bottle mosaic campaign, taking as its basis the 002 for 007 bottle which has been launched as a special edition for Skyfall.
Spring launched a 'Win Kit for your Club' facebook competition for Mark Harrod, inviting amateur Football Club members and fans the opportunity to win hundreds of pounds' worth of Mark Harrod training kit through a league table of mentions, updated weekly. The competition ran for six weeks, gathering followers from across the UK, and at the end of November Long Stratton FC was declared the winner, and Cheltenham Ladies' FC the runner up. Mark Harrod's facebook fans increased by 450% over the course of the competition – a real success.
November
We launched a new brand: The Music Tree, which promises to change the face of musical education. Ensuring that parents need no longer be forced to choose between dreary primary-coloured nylon or expensive leather, The Music Tree bags are brightly decorated in bespoke fabrics and on sale for £27, along with note cards, pads and recorder bags. Spring created the brand and eCommerce website, as well as art directing a bright, fun photoshoot of busking kids.
Springers clocked up some long hours in November, as we launched and manned the Sizewell C Community Consultation. The public events began on Wednesday 21st November and are the fruition of many months of work, which have seen Spring developed the project from the earliest planning stages, through months of studio work, data management, project planning and research, to the public exhibitions themselves.  This is a massive and complex consultation, of huge importance not just to The Suffolk Coast but to the UK, and has demanded a great deal of thought, focus and time from the whole Spring team.
Back in the foodie world, we created the brand identity for The Two Magpies, an artisan bakery that is setting up shop on Southwold High Street – a fitting culmination of our work throughout the year with bakers and independent retailers.
The work really started on Debach this month too – Spring has been commissioned to relaunch the identity for this Suffolk logistics firm, seeing it applied across a fleet of lorries, extensive warehousing, staff uniforms and offices, not to mention communications materials like website and print materials. The design will draw the eye to Debach in a very positive way, highlighting the personality and character of the company as well as its longevity and standards of service.
December
Saint Elizabeth Hospice tasked us with a new campaign to publicise their presence in north and east Suffolk, following on for our work on their launch here last year. Offering home care as well as hospice care, the campaign focuses on people and the relationship between the hospice's wonderful staff and the people they care for – not just patients, but their families and loved ones too. The materials for this campaign are at print as we type, ready for distribution in early 2013.
And finally, in a fittingly celebratory end of the year, we have been commissioned by beacon of excellence in the region, The Great House. This exquisite French restaurant with rooms is in Lavenham, and we have just started work on their new website for which we anticipate a February launch. If you don't know The Great House, we strongly recommend a visit – make sure you see the cheese board, it's moved grown men to tears.
So, 2012 has seen Spring produce four packaging projects, eleven print publications, seventeen product launch campaigns, fifteen websites, two consultancy projects, two heritage sites and twelve brand launches, as well as ongoing content, distribution and management for print, digital and real world communications programmes. If you'd like to know more about any of these projects – or the inside track on some we haven't mentioned – please contact us at any time for further information. In the meantime, our very best wishes for a wonderful Christmas and happy, successful 2013.